Lewis Bloor trial: Towie star 'left £3m diamond scam for ITV show'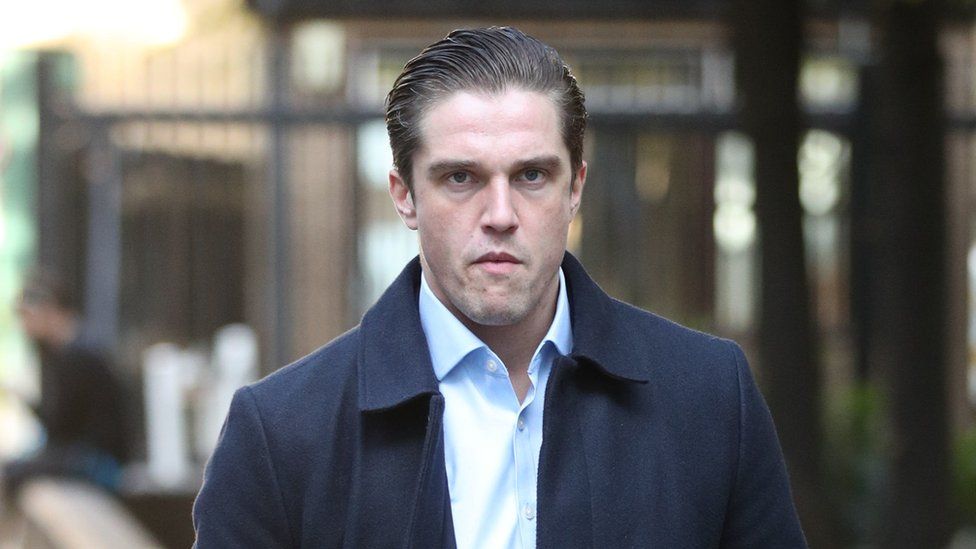 The Only Way Is Essex Star Lewis Bloor fell out with "fellow fraudsters" after he left an alleged £3m diamond scam for "some poxy show", a court heard.
About 200 people, mostly elderly, were duped into buying coloured diamonds after being told lies about their value, prosecutors said.
Mr Bloor played a "key role" in one company involved in the alleged scam, Southwark Crown Court heard.
The 31-year-old denies conspiracy to defraud.
He is on trial alongside five other men.
Mr Bloor appeared on the ITV reality show for three years from 2013.
Prosecutor David Durose QC said that as his "television career was beginning to take off... he was less available to be involved in defrauding people".
"That caused some unhappiness with other people who worked in the business, particularly with James Ward."
Mr Durose said Mr Ward, who is not on trial, messaged Mr Bloor: "I've done so [expletive] much for u and u put some poxy show in front of this!"
The jury heard phone messages recovered from Mr Bloor's computer showed he was "involved in dishonesty", that he was "involved in controlling sales" and viewed those working as "his boys".
Prosecutors said alleged victims were cold-called and told lies about the value of the diamonds, which were bought from a wholesaler and sold on with a mark-up of about 600%.
The court heard Maureen Edwards lost more than £27,000 after being called by Mr Bloor's alias, "Thomas Hankin", and other members of the group.
The retired social worker bought three diamonds for £31,000, "wiping her out financially," Mr Durose said.
Retired teacher Christine Truscott paid a total of £122,500 after being told she would make a 22-25% profit, the jury heard.
Another alleged victim, Maurice Wynes, paid about £115,000 for the diamonds.
The five others on trial, facing the same charge, are Joseph Jordan, 29, from Waltham Cross in Hertfordshire, George Walters, 29, from Beckenham in Kent, Max Potter, 25, of Enfield in London, Nathan Wilson, 28, of Brentwood in Essex, and Simon Akbari, 27, from Loughton in Essex.
Related Internet Links
The BBC is not responsible for the content of external sites.