Gloucestershire methadone pair jailed for toddler death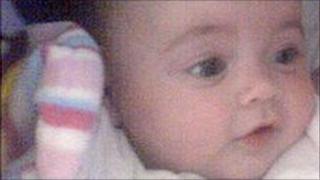 A couple who repeatedly gave heroin substitute methadone to a toddler who later died have been jailed for child cruelty.
Holly Agius, aged 14 months, died after being taken to hospital from her home in Broadwell, Gloucestershire.
Bristol Crown Court heard earlier that the pair gave her methadone over a six-month period to try to soothe her.
Her mother Bonny Richards, 28, was jailed for 15 months. Her partner John Davies, 32, was sentenced to 18 months.
Holly died at Gloucestershire Royal Hospital after being admitted on 12 January 2009.
Post-mortem tests revealed that the drug-addicted couple frequently gave the infant the heroin substitute in the six months before she died.
But this was eventually ruled out as a contributory factor in her death, which was found to have been caused by complications arising from a rare and lethal form of chickenpox.
Richards, of Trafalgar Mews, in Broadwell, and Davies, of Albion Court, in Scowles, had each previously admitted three counts of child cruelty towards the little girl.
Prosecutor Richard Smith said Richards and Davies had started a relationship in the summer of 2008 and shortly after started to administer methadone to Holly.
"It was not done with the intention of harming or injuring but rather a dangerously misguided attempt to settle or calm when she was restless, irritable and apparently ill," Mr Smith said.
"By autumn 2008, Holly was teething. Bonny Richards was rubbing methadone into the gums rather than using Bonjela."
Mr Smith said Holly went to stay with her natural father - Jason Agius - on the weekend of Saturday 10 January, where her illness appeared to worsen.
Holly returned to Richards and Davies on 11 January, in a "distressed and unsettled" state, Mr Smith said, so Davies injected her with methadone.
The court heard Holly did not wake up the following morning and was not breathing. She was taken to hospital and pronounced dead.
Davies and Richards originally lied throughout police interviews, denying any knowledge of how methadone came to be in Holly's system.
Sentencing the couple, Mr Justice Royce said: "You were both recovering heroin users, you had methadone for that purpose. You should have known of its potential dangers.
"You shut your eyes to the possible dangerous effects of administering methadone. It was reckless to the extreme. It was dangerously misguided."
He added: "This is not a case where it can be shown that the administration of methadone caused the death.
"The principal cause of death was a very rare form of chicken pox that led to bronchial pneumonia."