Photograph of Matson shooting suspect released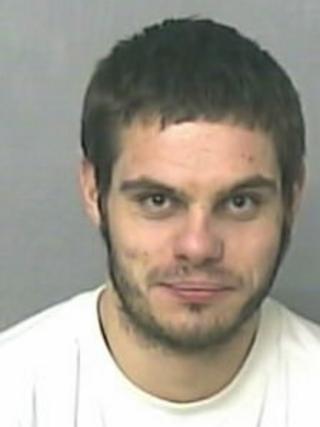 A photograph of a man wanted in connection with a shooting in Gloucester has been released by police.
Gloucestershire Constabulary is offering a £2,500 reward for information leading to the arrest of 27-year-old Brett Ireson.
A further £2,500 is being offered for information directly leading to the recovery of the firearm used.
The 24-year-old victim was shot outside his home in Winsley Road, Matson, at 2320 BST on Friday.
Mr Ireson has been described as approximately 5ft 11ins tall, of proportionate build, with dark brown hair.
Police said he is also wanted in connection with another incident in Rosebery Road, Dursley, in February in which a 29-year-old man suffered injuries.
Det Ch Insp Simon Atkinson said: "We are doing everything we can to find Ireson but ask the public to contact us immediately if they see him.
"Ireson is not considered to be a danger to members of the public but we would ask anyone who sees him not to approach him but to contact Gloucestershire Police.
"I would like to reassure the local community once again that we do not believe this was a random shooting. This was the result of a feud and the people involved knew each other."
Masked man
A 21-year-old woman from Dursley was arrested on Thursday on suspicion of assisting an offender in connection with the case. She is currently being questioned at Gloucester Police Station.
A 42-year-old man who was arrested on suspicion of attempted murder has been released on police bail.
Another man, arrested immediately after the incident, was released without charge.
Officers were called to the scene following reports of a hooded, masked man with a gun getting out of a dark green saloon car.
The man is believed to have shot his victim, who suffered serious bullet wounds to his legs, before driving away in the direction of the Musket pub.
A car believed to be connected to the incident has been recovered in Matson.