Gold Cup owner offers £15,000 for return of stolen cup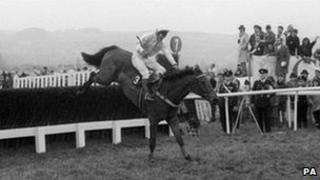 A £15,000 reward is being offered for the return of the 1988 Cheltenham Gold Cup stolen earlier this week.
Burglars took the trophy from the race horse owner Raymond Mould's home near Broadway in Gloucestershire in the early hours of Wednesday.
Mr Mould has put up his own money for information that leads to a successful arrest and the recovery of the cup and other trophies stolen at the same time.
The total haul was said to be worth more than £150,000.
'Sentimental value'
The cup, a new one of which is presented every year to the winning owner, is the UK's most prestigious steeplechase prize.
The stolen cup was awarded to Mr Mould and his late wife after their horse Charter Party won in 1988.
Mr Mould said he hoped the cup was not destroyed.
"What's the point in melting it down? To me it's worth a fortune. It's the sentimental value, not the monetary value that's at play here," he said.
A Challenge Cup trophy and a Britannia Handicap Cup trophy were also stolen, together with all his silver cutlery.
Bronze ornaments in the shape of a hare, a spaniel with a pheasant in its mouth and two horses being ridden by jockeys were taken.
A dark wooden clock with gold sides and a gold mechanism, two silver trophies, a silver fisherman ornament and a cigarette case were also stolen, police said.
Jockey Richard Dunwoody, who rode Charter Party to victory, said the theft was a "big blow".
"The Gold Cup is the pinnacle of our sport," he said.
"It is arguably the most prestigious race in our sport.
"It doesn't personally affect me but I am disappointed and it must be a huge disappointment to Raymond to have lost these trophies.
"Hopefully they will be able to recover them."