Cotswold Water Park death girl's family pay tribute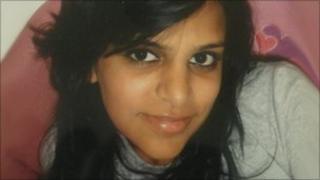 The family of a girl who died after being pulled unconscious from a bathing lake at a water park in the Cotswolds have paid tribute to her.
Kajil Devi, 15, from Feltham in London, died in hospital on Monday - the day after she was rescued by a member of the public at the Cotswold Water Park.
Her brother, Amid Devi, 17, said: "She was an A-star school girl - and she meant everything to us."
Her family said they were concerned about safety standards at the park.
Watermark, the company which manages the water park and beach, said there was sufficient staff on duty on the day of the incident. Witnesses have claimed there were not enough staff at the scene.
The Devi family also claim too few lifeguards were on duty.
Amid said: "It would have made a lot of difference if there was another lifeguard. Another one or two at least.
"At least she would have been pulled out quicker and there would have been less damage and they would have got to the hospital much quicker. Every second counts at this moment."
Watermark issued a statement on Tuesday which said four lifeguards, two off-duty lifeguards and two managers had been on site to deal with the situation.
The company also said lifeguards are there as a precaution and that signs clearly state families must supervise their children.
Cotswold District Council is carrying out a joint investigation with the police.
Kajil Devi's family have been interviewed by police as part of the investigation into what happened.