Appeal over Cheltenham hospital car park plan rejected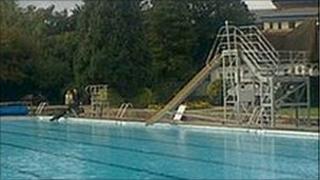 A planning appeal over the construction of a 407-space five-storey car park at Cheltenham General Hospital has been dismissed by a government inspector.
The controversial development was rejected by councillors after concerns it would dwarf the neighbouring lido.
Hospital chiefs appealed against the ruling, saying there was a need to resolve current parking problems.
The inspector said the public benefits of more parking did not outweigh the possible harm to the lido's heritage.
Simon Rawle's report said: "When one considers the lido in its entirety, it is an undoubtedly special place.
"It clearly has historical value and provides the perception of a link between past and present people."
'Incongruous building'
He accepted that the car parking situation at the hospital was "far from ideal".
He said he did not have any issues with the number of spaces being proposed, but he felt the "large and incongruous building" was being sited too close to the common boundary with the lido.
"However, that does not stop the appellant from re-visiting the whole question of how parking provision could be increased at the hospital," he said.
A spokesman for Gloucestershire Hospitals NHS Foundation Trust said: "We welcome the inspector's suggestion that 'resolving the current parking problems at the hospital should be a priority' and will be re-visiting the question of increased parking provision in collaboration with the relevant parties.
"We reiterate our commitment to the continuing improvement of facilities at CGH, including the provision of adequate, safe car parking for patients, staff and visitors."