Covert British troops 'could have buried' WWII devices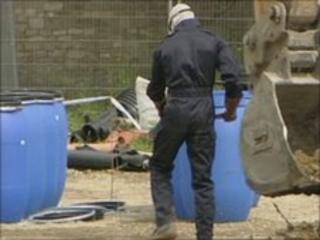 World War II incendiary devices found on a building site in Gloucestershire could have been left by covert British troops, according to researchers.
More than 20 phosphorus bombs were unearthed in Birdlip after a digger hit one, causing it to burst into flames.
A former worker at the site said he saw a Home Guard officer burying objects there 65 years ago.
The Coleshill Auxiliary Research Team said auxiliary officers often used Home Guard uniforms as cover.
The secret Auxiliary Units were Britain's last line of defence in the event of a Nazi invasion.
Tom Sykes of the Coleshill Auxiliary Research Team said: "We know that the Auxiliary Units were issued with the AW [Albright and Wilson] phosphorus bombs so there is quite a high possibility that the guy who planted these bombs could have been an auxilier.
"A lot of auxiliers used Home Guard uniforms as cover and a few of them were recruited through the Home Guard."
Bob Townsend, who worked at the site at the end of the war when it was a builder's yard, said a member of the Home Guard called Ivor James told him he was burying Army surplus material.
He said: "Being 14, I wasn't really interested but I didn't realise what it was until they were talking about a bomb the other day and I thought, I know what that is.
"I'd been working there all those years and we'd been walking over it. It's a wonder we didn't blow ourselves up."
The devices were removed by bomb disposal officers after being discovered earlier this month. They were put into vats of water to make them safe.