Stroud mayor offers reward after gardens vandalised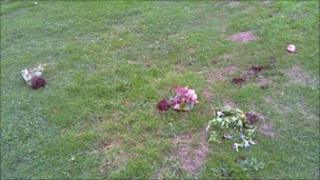 A reward is on offer to help trace vandals who damaged a remembrance garden in Stroud, Gloucestershire.
Town mayor Andy Read is offering £150 after about 100 plants were uprooted and kicked, areas trampled and beer bottles smashed in Park Gardens.
The garden was given to Stroud by local trader and councillor Sidney Park, in memory of his only son Herbert, who died during World War I.
Councillor Read said he was stunned that anyone would "stoop so low".
The park is run by Stroud Town Council.
A Gloucestershire Police spokesman said the damage, estimated at £500, is believed to have been caused on Sunday night.
'Simply stunned'
Mr Read said: "I walk through these lovely gardens every day... I see the amount of work that our staff put in and also the pleasure the displays give to hundreds of local families.
"I'm simply stunned that anyone would stoop so low as to do something like this."
A police spokesman said in a similar incident, three weeks ago, plants were pulled out of 40 displays that were part of Stroud in Bloom.
He asked anyone with information to contact the force.