Firefighters tackle 14 camp fires in the Forest of Dean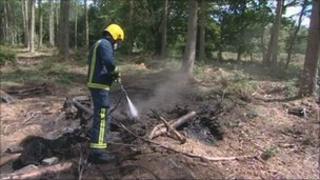 Illegal camp fires are being blamed for 14 fire service callouts so far this summer to a picnic area in the Forest of Dean.
Last year, Gloucestershire Fire Service had just one call to the Haywood Plantation.
They are now using a new high-pressure hose to ensure any underground hot spots are put out.
Andy Hook, of the Forestry Commission, said "tinder dry" conditions meant any fires would spread quickly.
Mr Hook said discarded disposable barbecues were also a fire ignition risk.
"People leave them there and then disappear off home. We then have to put the fires out that come from that," he said.
"It's extremely dry the moment, tinder dry. We would be struggling if we do have any big fires at the moment."
Cinderford fire station manager Gareth Clowes said of the new hose: "It gets right down into the fire which is down underground, so it blasts it out."