Power boaters given warning over riding Severn bore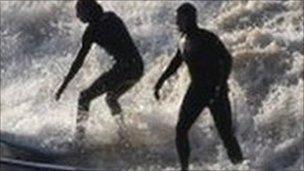 Power boaters are being asked not to ride the next River Severn bore wave on 10 August.
Gloucester Harbour trustees want the boats to stay 200m back from the crest of the wave to reduce the chances of surfers and kayakers being injured.
They also say power boats break up the wave, a spectacle that people come to watch.
The surge wave is caused by the incoming tide being funnelled up the narrowing Severn Estuary.
Mike Johnson, from the Gloucester Harbour Trustees, said: "First of all we have a responsibility to ensure people navigate as safely as possible within the area of our harbour.
"We've received lots of comments concerning the improper and inappropriate use of motor boats and speed boats when there's a Severn bore on the river.
"Those concerns stem generally from people like the surfers and kayakers who are in the water whose safety is compromised by the activity of power boat owners who insist upon going in amongst them with powered craft and potentially causing problems with, maybe, propellers or hard boats hitting people in the water."
Mr Johnson said posters and leaflets were being distributed to draw attention to bye-laws which, he said, require power boat owners to navigate sensibly and not cause a nuisance or danger.
"What we need to do is encourage people to act responsibly, don't exceed the speed limits and navigate with due regard and common sense for all those around you," he said.
"That means generally not misbehaving, if that's the right word, on the very front of the bore wave but hanging back and letting other people enjoy it as well.
"Hang back from the bore because although a surfer or kayaker won't spoil the bore wave for all those people on the banks who've come a long way to watch the bore, a power boat will.
"It will break it up and so many people go away disappointed."
Related Internet Links
The BBC is not responsible for the content of external sites.