Work carried out to protect Severn Estuary salt marshes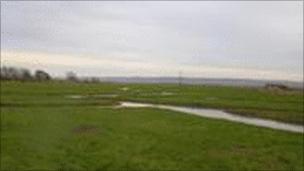 Work has been taking place to protect tidal salt marshes on the banks of the Severn Estuary from the impact of climate change.
The Environment Agency is creating 15 acres of new wetland called Brims Pill, near Awre in Gloucestershire.
It hopes to recruit more local farmers to turn their riverside land back into salt marshes, which can still be used for grazing.
Predictions suggest 1,000 acres will be lost over the next 50 years.
'International importance'
Brian Smith, from the agency, said: "It [tidal salt marsh] gets squeezed between a rising sea level and fixed agricultural defences.
"There's nowhere for the salt marsh to go. We're going to lose those vital habitats and with it the wildlife that depends on it."
The agency says the area, near the Slimbridge Wetland Centre, is of "international importance" for migrating wildfowl, breeding waders, migratory fish and Atlantic eels.
A spokesman said the construction work, which included removing silt and creating a network of creeks, is complete and the natural process of becoming a wetland will take place over the next five years.
The organisation has been working since 2006 with the Gloucestershire Wildfowlers Association (GWA), their farm tenant and Natural England to develop the plans.
The spokesman said the land "currently has little ecological or landscape value".
GWA will manage the salt marsh as a nature reserve, he added.
Related Internet Links
The BBC is not responsible for the content of external sites.