Boa constrictor 'thrown into Gloucestershire canal'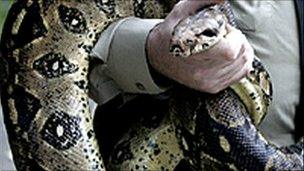 A man threw his pet boa constrictor into a Gloucestershire canal after telling witnesses he could not afford to feed the snake, police said.
The incident, at Bowbridge near Stroud on Thursday evening, was reported to police by a member of the public.
The man is described as white, 45 to 50 years old and balding with a moustache and he was wearing black jeans, a black shirt and boots.
He left the area in a grey Ford Fiesta, driven by a woman.
Rural and environmental crime officer, Pc Jon Palfrey, said: "We understand that in the current financial climate, people may be struggling to take care of their much-loved pets.
"But we assure you there are solutions to the problem that mean you don't have to go to such an extreme."
A spokesperson for the RSCPA said releasing a non-native animal into the wild was against the law.
"Before taking on any animal, it is extremely important that you thoroughly research the needs and requirements of the species," he said.
"Snakes are a significant and long-term commitment. Boa constrictors can live for 40 years in captivity and can grow to four metres (13ft) in length."
Police urged the man to come forward and appealed for further witnesses.
Wildlife experts said the snake could still be alive if it had been able to find warmth, but it was unlikely to survive the winter.
Related Internet Links
The BBC is not responsible for the content of external sites.