Protest against speeding drivers through Dymock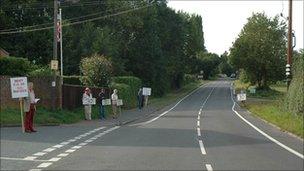 Residents of Dymock have been lining the main road through the village to demonstrate against speeding drivers.
They want a vehicle activated sign installed to remind drivers that the speed limit drops from 50mph to 30mph through the area.
Gloucestershire County Council has agreed that such a sign would be "useful" but said it did not know if or when funds would be available.
Campaigner Reg Walker said existing signs were not effective.
Mr Walker, 57, who organised the demonstration, said: "The 30mph signs seem to pass in a blur for many drivers.
"The village suffers from constant noise, continuing throughout the night, from speeding vehicles travelling between Gloucester and Leominster."
He added: "In times of austerity, the concern is that the balance sheet will be put before the safety of the residents of Dymock."
Richard Gray, Gloucestershire highways manager for the area, said: "Some of the residents asked us to look at the possibility of a Vehicle Activated Sign (VAS) and a full assessment was carried out to determine whether or not this would be appropriate.
"The assessment showed that a VAS would be useful in this situation and I have written to the parish council confirming that this scheme had now been submitted for funding.
"However, it's no secret that council budgets are tight at the moment and all schemes have to be prioritised.
"I cannot guarantee if and when the work will be done.
"Gloucestershire Highways takes road safety very seriously and we will continue to work with the residents and parish council to look at other ways of addressing their concerns."
Dymock Parish Council said it would match-fund any money provided by the county council.
Related Internet Links
The BBC is not responsible for the content of external sites.