Rare Bechstein's bat found at Gloucestershire arboretum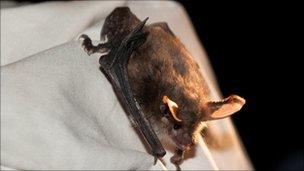 One of Britain's rarest woodland bats has been found at the Westonbirt Arboretum in Gloucestershire.
The discovery of the male Bechstein's bat was recorded as part of a national survey at the site's "silk wood".
Gloucestershire Bat Group said the elusive creature was difficult to detect because it rarely leaves the tree canopy.
It was lured into a trap using ultrasonic social calls. The bat was released after the survey.
The Forestry Commission, which manages the arboretum, said the findings would help to map the UK distribution of the rare mammals and help future conservation and woodland management plans.
Project officer Helen Miller said: "This Bechstein discovery is one of 13 found this summer across seven counties as part of the project.
"Each new discovery tells us a bit more about this elusive species."
The arboretum's education officer, Ben Oliver, said the findings were a boost for their conservation programme.
"A good bat population indicates there is plenty of insect life able to thrive amongst the woodlands here, which means that the woodland management system at the arboretum is creating successful habitats for a range of wildlife," he said.
Related Internet Links
The BBC is not responsible for the content of external sites.