Relocation of Dursley Lister Petter plant could be off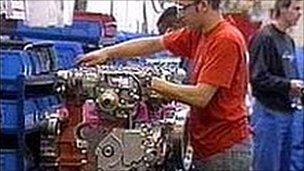 Hopes have been raised that an engineering firm, which was considering moving from its home town of more than 140 years, could stay put.
Diesel engine maker Lister Petter was looking to relocate from Dursley to Tewkesbury on the other side of Gloucestershire.
Bosses said the plant had aged to the point of becoming uneconomical to run.
But union leaders said a recent meeting with the 150 workers suggested that the current building may be refurbished.
Trevor Hall, from Unite, said: "Feedback to our stewards was that it was a progressive meeting."
He said it was expected contractors would be brought in "in the next couple of weeks" to assess the cost of doing up the present building.
He said that was "encouraging news for the workforce".
Senior steward Colin Fryer said staff did not want to go to Tewkesbury.
"We've done a survey where over 98% of the workforce want to stay in Dursley," he said.
"It's our heritage. Listers has always been here and we very much want it to stay."
A spokesman for the company said Listers had never wanted to move away from Dursley but it looked at Tewkesbury as an option for resolving the problems with the current building.
Related Internet Links
The BBC is not responsible for the content of external sites.