Grant may help solve mystery of Woodchester Mansion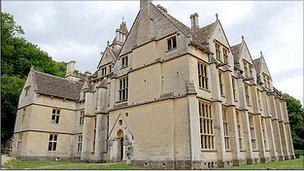 Nearly £50,000 of lottery cash has been awarded to open up archives on an historic mansion which was mysteriously abandoned during construction in 1873.
No explanation has ever been given for why Woodchester mansion, near Stroud in Gloucestershire, was left unfinished.
Cash from the Heritage Lottery Fund will be used to improve public access to the material, such as drawings.
Stephen Davis, chairman of Woodchester Mansion Trust, said some information could help solve the mystery.
"This money will lift the lid on a fascinating archive that has long been kept from public view," he said.
"Since 2002, we have been collecting and cataloguing material that sheds new light on the mystery of the abandonment of Woodchester Mansion in the mid-1870s.
"It helps piece together the story of its builder, William Leigh, his young prodigy architect Benjamin Bucknall and the story of the Leigh family who lived in Woodchester Park until the 1940s."
Related Internet Links
The BBC is not responsible for the content of external sites.