Call to scrap south-west regional fire control centre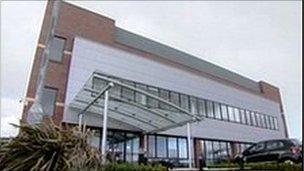 Gloucestershire's Chief Fire Officer has suggested the government scrap plans for a regional fire control centre if it is looking to make cuts.
The proposed centre in Taunton, Somerset, would replace control rooms throughout the south-west of England.
But Chris Griffin said it was "not the solution for Gloucestershire at all".
Whitehall has said the scheme, which was announced in 2005 and is four years behind schedule, can proceed unless there are more delays.
The project, which was championed under the Labour government, was looking to reduce 46 local control rooms down to nine purpose-built regional centres.
Mr Griffin said: "I think we need a bit of a rethink around that and if the government is seeking to reduce costs, and is challenging projects which haven't yet delivered, I think this is one of those that they could take a second look at."
He said the plans had been "in fog" for a while and that the current arrangements worked well.
"We know from our Gloucestershire experiences the tri-service arrangement works extremely well," Mr Griffin said.
"It's incredibly effective, it builds on those working relationships between the emergency services and the county council."
Contractor EADS, which will run the centre, has insisted the facility will open next May.
The company said it would meet government targets for finishing the £423m project on time and it would deliver benefits for the public.
The centre was built in 2007 and is estimated to cost taxpayers £5,000 every day it stands empty.
Related Internet Links
The BBC is not responsible for the content of external sites.