Campaign to rename Ashchurch for Tewkesbury station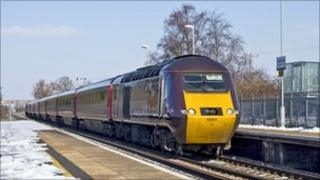 More than 300 people have signed a petition to change the name of a Gloucestershire railway station.
Ashchurch for Tewkesbury is located in the village of Ashchurch, but is the nearest stop for Tewkesbury.
But the Ashchurch Tewkesbury and District Rail Promotion Group wants it to be renamed Tewkesbury Parkway.
Campaigners said the aim was to encourage more visitors to Tewkesbury who may not otherwise have realised there was a station serving the town.
'Fully supportive'
Treasurer John Stretton said he had had a number of meetings with train operator First Great Western which would be responsible for the name change.
"They are fully supportive, provided that they are happy that we have local support which we are gathering at the moment, " he said.
"And we are to present a package to First Great Western by the end of November in the hope of achieving the change of name from the May timetable change next year. That's the earliest it can possibly be done."
Mr Stretton said including the word "parkway" would indicate the station was not in the centre of the town and that parking was available.
He added that several neighbouring town and parish councils had also supported the bid.
Julian Crow, First Great Western's regional manager for the west of England, said: "We're aware that there is an interest in renaming the station and if this is what the local community wants, we are more than happy to work with them to make it happen."