Sir Douglas Bader's widow in surprise visit to soldier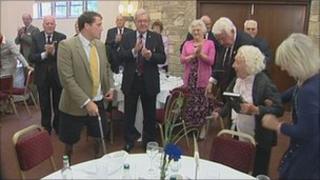 The widow of a World War II hero has paid a surprise visit to Gloucestershire to meet a soldier injured in Afghanistan.
Lady Joan Bader, widow of key Battle of Britain figure Sir Douglas Bader, met Lt Garth Banks, who lost both legs in an explosion in January.
Lt Banks, from Cheltenham, was special guest of the Grenadier Guards Association at a lunch on Sunday.
Lady Bader and Lt Banks said they were "honoured" to meet each other.
'A real honour'
Sir Douglas lost his legs in a plane crash in 1931 and was walking on artificial legs within six months. He rejoined the RAF in 1939, leading No 242 Squadron during the Battle of Britain.
Lady Bader presented Lt Banks with a copy of her late husband's book Reach for the Sky at the event in Shipton Oliffe.
Lt Banks, of 1st Batallion Grenadier Guards, said: "It was a very well-kept surprise.
"It was a complete shock and a real honour. You hear his name - Douglas Bader - as you grow up."
He said he hoped to continue serving away from the battlefield.