Lorry cover pledge at Gloucestershire plant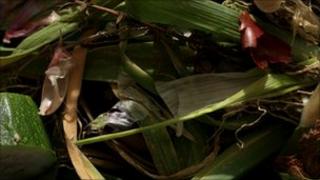 A composting plant in Gloucestershire has pledged that lorries transporting organic waste to the plant will be fitted with tarpaulin covers.
Residents in the Sharpness area say the smell associated with the plant is "making their lives a misery".
Colin Brown, of plant operator New Earth Solutions, made the pledge at one of two meetings on Tuesday night.
He also said the possibility of changing the design of the chimney was being looked at.
'Harrowing stories'
Residents had said the cause of the odour was lorries carrying waste not being covered properly, and the smell from the plant's chimney.
The plant, which opened in 2008, takes in more than 100,000 tonnes of food and garden waste every year.
Brian Williams, who runs Sharpness Marina, claimed "not a great deal was achieved" at the meetings.
He said: "I attended both meetings last night and I listened to the statements made by the factory, the council and the Environment Agency.
"It's clear to me that what they're doing at the moment is well within the rules of the permit they have to operate under.
"Having said that, I feel that the stories I heard were fairly harrowing... it is clear to me these people are living under a lot of stress and their environment is being totally destroyed."
A New Earth Solutions spokeswoman said all material leaving the plant was covered with tarpaulin covers specially fitted to the container, but different contractors were bringing waste in.
Chimney design
She said some of them were using net coverings, and the company would now ensure they all used tarpaulin.
Mr Brown, operations director at New Earth Solutions, said that discussions had continued after the public meeting.
He said: "We are undertaking a study looking at possible changes to the design on the chimney.
"Secondly, I've made a commitment that all materials coming into and out of the site will be on sheeted loads within six weeks."
He said on 30 November New Earth Solutions and the Environment Agency, which monitors the site, would report back regarding the chimney design.