Weekly Forest of Dean newspaper, The Forester, is sold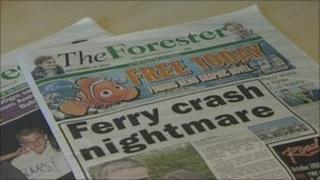 The Forest of Dean's weekly newspaper, The Forester, has been sold.
The 130-year-old title was bought by Surrey-based Tindle Newspapers, which owns 200 papers in England and Wales.
The company said consultations had begun with the Forester's nine Cinderford-based staff who will "transfer with the business".
The publication was previously part of the Gloucestershire Media subsidiary of Northcliffe Media, which owns the Citizen and the Echo.
Tindle Newspapers said the company had a "long track record of publishing local community newspapers" and has launched five new titles in the past year.
Commercial study
Group managing director Brian Doel said: "The Forester will be subject to the same commercial study as all of our newspapers to see how it can be developed.
"It will stay as a Forest of Dean paper. How far further it goes is yet to be seen."
Editor-in-chief of Gloucestershire Media, Ian Mean, said: "I think it speaks volumes for the fact that this is a good paper, that another newspaper group wanted to buy it.
"And despite what some people say, I think there's a great future for good local newspapers."
Tindle already owns the the Forest of Dean's free weekly paper, The Review.