University of Gloucestershire whistleblower wins case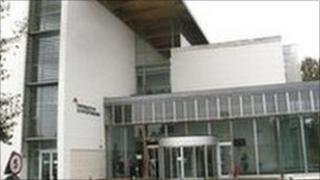 A university whistleblower, sidelined from her job after alleging faculty budgets were being blown on overseas travel, has won her case.
Janet Merrigan took the University of Gloucestershire to an employment tribunal after claiming she was given an "ultimatum" to move departments.
The Cheltenham-based university was ordered to pay her £6,000 for injury to her feelings.
The university said it was considering whether to appeal against the verdict.
A four-day tribunal in Bristol heard that Mrs Merrigan, a business development manager in the Faculty of Education, Humanities and Sciences, had flagged up concerns about excessive staff pay, overseas travel and consultancy fees at the university in a series of emails and conversations with bosses.
Files removed
The allegations first emerged in June 2009 when Mrs Merrigan was asked by the then deputy vice-chancellor (operations) Paul Bowler to look into the university's finances, the tribunal was told.
Mr Bowler had been hired to put together a financial recovery plan for the university, which was on the Higher Education and Funding Council for England's "at risk" list for financial problems.
He left the university suddenly in November last year, having been accused by the university's ruling council of "insubordination" and attempting to remove the then vice-chancellor Professor Patricia Broadfoot so he could have the job himself.
Mr Bowler denied the claim and told the tribunal he resigned after he was suspended when he made it known he was thinking of quitting because of "ethical" concerns about how the university was run.
After the disclosures came to light - Mrs Merrigan claims files were removed from her computer - she complained that she was excluded from meetings and sidelined in her role.
She filed a whistleblower complaint against the university in January, but it was dismissed.
'Disappointed with decision'
Employment Judge Jim Tindal upheld her complaints, but the university said in a statement: "Although a number of extremely serious and spurious allegations were made by Mrs Merrigan in respect of financial irregularities within the university, these were neither upheld nor featured in the verdict."
The statement said: "The University of Gloucestershire is disappointed with the tribunal's decision which concluded that Mrs Merrigan had suffered some detriment."
It added: "It is disappointing that Mrs Merrigan has chosen to make public her views before written confirmation of the tribunal decision has been received."
Mrs Merrigan said: "I am delighted I have won, but most importantly that my concerns were taken seriously.
"I never wanted to take my case to an external tribunal, but the internal procedures were flawed and, despite my best efforts, the university did not want to hear what I had to say, or address my serious concerns over financial flaws.
"I want to carry on doing a job that I love and for the university to learn from this experience and make sure no-one has to take a case like this again."
The university said it said it had tightened its financial controls and is to report an operating surplus for 2009-10 in excess of £3.5m because of "management interventions" in the faculty where Mrs Merrigan works.