GCHQ trio recognised for key to secure shopping online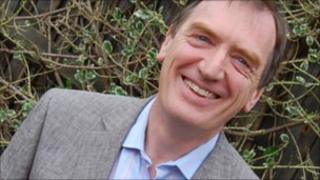 Three former GCHQ workers are being recognised for their role in developing secure online shopping - 20 years before the internet was created.
James Ellis, Clifford Cocks and Malcolm Williamson developed the mathematical idea which enables safe transactions.
Plaques are being unveiled at GCHQ and Pittville Pump Rooms in Cheltenham.
The Institute of Electrical and Electronics Engineers (IEEE) has granted its 100th Milestone Award to the three men.
Clifford Cocks said it was "great to see how widespread and significant the use of public key cryptography has become".
Mr Cocks is the only one attending the unveiling and dedication events as Mr Williamson now lives in California and Mr Ellis died in 1997.
US researchers
"I am honoured that the IEEE have decided to recognise its discovery at Cheltenham," he said.
"James Ellis would have been especially gratified to know that his work is to receive such acknowledgement."
The computer code was developed in the 1970s for military use, but it is now used to protect customers security when shopping online.
A group of US researchers had been credited with the discovery until 1997 when the work was declassified and made public and the trio from GCHQ received the recognition.