Gloucester owl charity says public opening did not work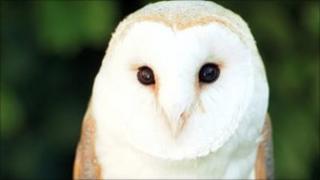 An owl charity in Gloucester has admitted opening to the public "did more harm than good".
The Barn Owl Centre at Hempsted opened a visitor's centre five months ago but said it will now reinstate its old system of pre-arranged visits.
Founder Vincent Jones said: "We never knew who was coming - we started to lose control and the public fattened the display birds up by feeding them."
The centre has 35 birds including owls, a golden eagle and hawks.
'Fundraising hit'
Mr Jones added: "In 12 years, as a rescue conservation centre, we've always been open by booking only.
"Five months ago we introduced a test run where we opened to the public on weekends and school holidays and charged an entrance fee.
"It meant that all the staff came away from the conservation projects we were undertaking and the fundraising stopped so we could man the centre.
"Being open to the public meant we never knew who was coming and when. It really disorganised the charity.
"We've shut to the public and and are now open by bookings only.
"You can't beat the expression on people's faces when an eagle owl lands on their gloved hand. We believe in an interactive education experience.
"As a visiting centre it sort of took that away because we ended up just doing displays rather than activities."