Flood alleviation works finished at Cheltenham school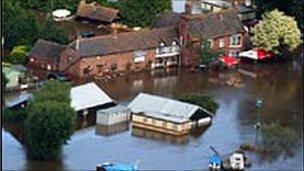 Work has been completed on a flood alleviation scheme at a Gloucestershire school which was badly hit by the July 2007 floods.
A storage tank has been installed below the playing field at Cleeve School, Cheltenham, to hold storm water during a deluge.
The £519,000 county council scheme is also expected to cut flooding on nearby roads and properties.
Head teacher Rob Broadbridge said the work had ended ahead of schedule.
"This project will have benefits for both the school and the community, who have been very supportive whilst the work has been undertaken," he said.
The volume of water that can be stored in the tank is more than 2,500 cubic metres.
The works are designed to cope with a one in 100 year flood, with an additional allowance of 20% for climate change, the county council said.
Gloucestershire County Council was given a £1.6m grant for repairs to the nine worst-hit schools.
Councillor Stan Waddington said: "It's over three years since the devastating floods of 2007.
"A number of schools were badly hit. It's good to see work at some of the schools has been completed, giving peace of mind for pupils, teachers, parents and local communities."
Related Internet Links
The BBC is not responsible for the content of external sites.