Coroner appeals over death of Gloucester man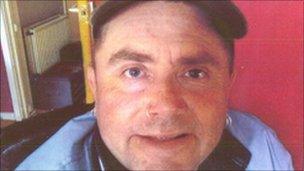 Police and the coroner are trying to piece together information about the last movements of Gloucestershire man.
The body of Steven Betts, 46, was discovered in a stream in the Abbeydale area of Gloucester on 6 October.
A spokesman for the county's coroner said it was vital for the family to understand what happened in the days leading up to his death.
Mr Betts was seen on 1 October but his whereabouts until 6 October remain unknown. detectives said.
An inquest was opened and adjourned on Monday but his death is not being treated as suspicious.