Gloucestershire man jailed over double fatal crash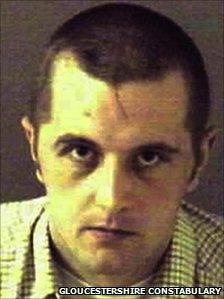 A man who had never passed a driving test has been jailed for seven years for killing two friends and injuring another in a crash.
Gloucester Crown Court heard Sean Creed, 29, of Minchinhampton, was drunk when he smashed his car into a stone wall on Cherington Lane, near Tetbury.
Jade Turley, 16, and Paul Workman, 38, were killed.
Creed admitted two counts of causing death by dangerous driving and driving with excess alcohol.
Ms Turley's sister Amber, who was 19, and Creed, of Hampton Fields, Minchinhampton, were both seriously injured and were in hospital for several weeks.
The judge called the incident, which happened on 8 December last year, "utterly reckless".
The court heard Creed had been driving a powerful Subaru Impreza. He had found out that night that it had failed its MoT due to defective brake pads.
He and his friends had been in the Ragged Cot pub in Minchinhampton. The court heard Creed had drunk at least seven pints of cider, before deciding to drive to Tetbury for a kebab.
Tests found he had 140 milligrams per 100ml of alcohol in his blood - the legal limit is 80 milligrams.
Prosecutor Julian Kesner said: "Creed drove that night as if invincible. His car had failed its MOT, he had never passed his driving test, the car was untaxed and uninsured.
"He was driving like a rally driver, playing loud music. He was quite possibly almost twice over the drink drive limit. He was driving in treacherous road conditions."
Mr Kesner said witnesses had described Creed "wheel spinning" the car as he left the pub.
He narrowly missed hitting a Saab travelling in the opposite direction on the way to Tetbury.
The court heard Amber Turley was the only one who was wearing a seatbelt.
She was so scared by Creed's driving that she began to write a text message to her boyfriend saying she thought she was going to die.
Reading extracts from Miss Turley's statement, Mr Kesner said: "He was moving quickly between gears taking it to 5,000 to 6,000 revs before changing.
"We were being thrown forward and back. I was scared out of my life. We wouldn't have had a chance if anything came the other way."
Related Internet Links
The BBC is not responsible for the content of external sites.