Plans for £92m waste plant in Gloucestershire shelved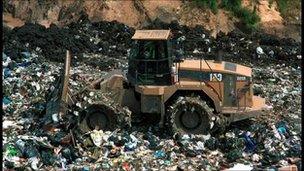 Funding for a £92m waste plant in Gloucestershire has been cut as part of the government's Spending Review.
Defra said landfill targets set by the European Union were still achievable without the new facility.
But county council Chief Executive Peter Bungard said: "If we look at our situation in Gloucestershire we do not have landfill space to last us long into the future."
Two preferred companies were due to be named as part of the tendering process.
The waste facility would have helped alleviate the county's reliance on having to pay for landfill in other parts of the country because it is running out of landfill space.
County councillor Stan Waddington, cabinet member for environment, said: "Under the current regime, landfill taxes are an unacceptable financial burden on council taxpayers in Gloucestershire."
Defra's decision to withdraw funding for this project and six others around the country was because they were "not needed in order to meet the 2020 landfill diversion targets set by the European Union".
The cuts will, according to the government, save £3m per annum in 2014-15 rising to £26m a year from 2017-18 onwards.
The county council, which had paid £7.4m for the land at Javelin Park at junction 12 of the M5, is now looking at what will happen to the tendering process which began in April 2009.
It is also considering the impact of landfill taxes which go on to on local residents' council tax bills.
"There must be questions about what is the future for landfill taxes because the landfill tax regime and this fining regime were put in place to encourage local authorities to move away from landfill," said Mr Waddington.
"The government yesterday seemed to be telling us that they met their landfill targets so there is no longer the need to keep the financial pressure on us, is that what they mean? We need to talk about this at length with Defra."
Related Internet Links
The BBC is not responsible for the content of external sites.