Gloucester RSPCA full after 14 cats dumped in six weeks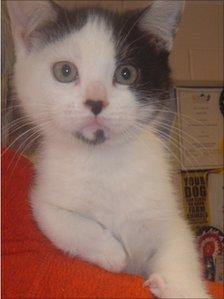 Fourteen abandoned cats and kittens have been taken in by a Gloucester animal clinic in the past six weeks.
In the latest incident a cat was abandoned in a box at the RSPCA's clinic in Horton Road.
The animal welfare charity said the feline had taken up its last cattery space in the city.
A spokeswoman also issued a reminder that it was a criminal offence to abandon an animal in a manner likely to cause suffering.
Earlier in October, two cats were found under a metal container in Gloucester City Park. A brown basket was found nearby.
In another incident a young black and white cat was found in a cat carrier dumped in the middle of a field near Hazelton Close.
And in September a heavily pregnant cat was among those abandoned.
RSPCA Inspector Jackie Hickman said: "Dumping any animal is morally and legally wrong.
"As a charity we are struggling to cope with the number of cats and kittens currently in our care.
"Anyone who is looking to rehome an unwanted cat should please contact their local branch of the RSPCA."
Related Internet Links
The BBC is not responsible for the content of external sites.