Gloucestershire may still get £92m waste plant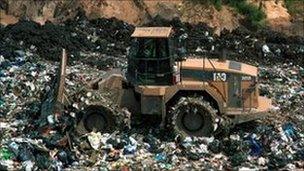 Gloucestershire County Council has said it still hopes to build a £92m waste recycling plant in the county.
It was feared the plan would have to be scrapped after funding was cut as part of the government's Spending Review.
But now council bosses say they are working with the government to identify ways that the household waste plant at Quedgeley can be built.
"Whatever happens we have to find an alternative to landfill," county councillor Stan Waddington said.
"There's no question of us dropping the project and doing nothing.
"In the new year, I hope we'll be in a position to continue what we have started," Mr Waddington said.
The tendering process for the new plant has been deferred while the authority carries out talks with the Department for Environment, Food and Rural Affairs (Defra) to try to progress the project.
The council said it needed to identify ways to deal with household waste as it was fast running out of landfill space within its boundaries and it faced a huge tax bill for using such facilities.
The levy for using landfill as a means of dealing with rubbish will increase to £56 per tonne, next year, which will cost Gloucestershire tax-payers in excess of £7m.
The county council paid £7.4m for land for the project at Javelin Park off junction 12 of the M5.
A new plant would either incinerate rubbish to generate energy or use composting techniques.
Related Internet Links
The BBC is not responsible for the content of external sites.