Kemble to Swindon rail upgrade plan still on the cards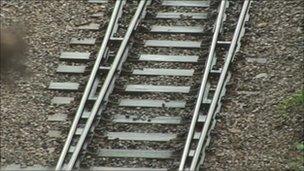 Plans to install a second railway track between Kemble and Swindon could still go ahead despite funding cuts, Network Rail has said.
A £52m plan to double the capacity on the line had been put in doubt due to transport cuts and the abolition of Rural Development Agencies.
Network Rail said it was now working on a cheaper version of the scheme.
But Cotswolds MP Geoffrey Clifton-Brown said government transport cuts still left the plans in doubt.
At present, trains on the Cheltenham to London route are delayed by a 12-mile bottleneck of single-track rail.
Details of the new double-tracking scheme have yet to be worked out in detail, but significant savings can be made over the old design, Network Rail said.
But Mr Clifton-Brown said he still was not sure if any of the £45m pledged by the last government to the scheme could now be found.
He feared the line work could be pushed back from 2011 to 2015.
"I think the scheme still has big question marks over it. The existing unsatisfactory status quo will continue," he told BBC Radio Gloucestershire.
Related Internet Links
The BBC is not responsible for the content of external sites.