Cheltenham council underwrites £5.5m of museum funding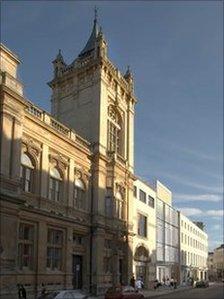 A council has said it will underwrite up to £5.5m of funding to help secure the future of Cheltenham's Art Gallery and Museum.
The refurbishment had been at risk after the Heritage Lottery Fund said it would only make its donation if it was sure the project would go ahead.
Members of Cheltenham Borough Council pledged £2.5m to the project and agreed to underwrite existing fundraising.
The proposals now have to be put before the full council for its approval.
Councillor Andrew McKinlay said it could now put forward its bid to the Heritage Lottery Fund for £750,000.
"They've said they would only consider the bid if we underwrite just over £5.5m of existing funding."
He added: "If they give the grant they want to be assured the project will go ahead."
On Tuesday evening a meeting of the council's cabinet proposed it should underwrite the funding - up to a maximum of £5.5m as part of its budget for 2011/12 - subject to approval from full council.
At present the art gallery and museum says it can currently only display a third of its collections.
The new building will have exhibition galleries on four floors, new open-access storage and study areas.
It will also include spaces for education and outreach services, improved visitor facilities and a cafe.
Subject to council approval and the funding being in place, work could start next March.
Related Internet Links
The BBC is not responsible for the content of external sites.