Extra signs are put up to warn of Gloucester bus lane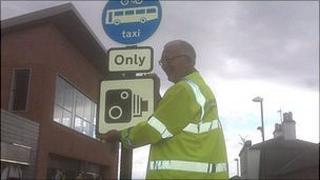 More signs are being put up to warn motorists of a bus lane in Gloucester.
Since July nearly 13,000 drivers have been issued with fixed penalty notices for travelling over Llanthony Road Bridge.
But Gloucestershire County Council denied the CCTV camera was "generating cash for the council's coffers".
"It's about public safety and ensuring that people can enjoy the shopping and walking experience at the Gloucester Quays development," a spokesman said.
"The signs up at the moment are more than adequate but we have listened to the comments of drivers and we're looking into putting even more signs up to further hammer home this message.
"Hopefully, as we approach the busy Christmas shopping period, we'll see even fewer vehicles flouting this law," he added.
People caught on camera are given a £60 penalty notice, which is reduced to £30 if paid within 14 days.
The bridge is used by people walking between the new Gloucester Quays shopping centre, Gloucestershire College and the town centre.
Only buses, emergency vehicles and taxis are allowed to use it.