Work begins on Gloucestershire landslip road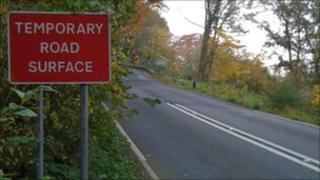 Work has started on a £1.24m project to stabilise a busy commuter route in Gloucestershire to prevent further landslips.
Delays are expected until the end of May 2011 while roadworks are in place on the A46 at Cooper's Hill.
The project will also involve repairing the road surface.
Recent traffic surveys showed an average of 1,700 vehicles use the road during peak morning commuting and 1,800 in the afternoon rush hour.
While work is ongoing there will be temporary traffic lights and one lane will be closed.
Disruption 'inevitable'
The temporary signals will be manually operated during peak hours in a bid to avoid build up of traffic.
Councillor Stan Waddington, cabinet member for the environment, said: "This work has been planned for some years and I'm pleased that at long last it's about to start.
"This is a really important road, which is very well used by local people, businesses and commuters travelling all around the county so we have to make sure the subsidence is corrected so the road can stay open for use.
"While we will make every effort during the works to keep disruption to the travelling public to a minimum, there will be inevitably be some disruption.
"I would ask that road users please be patient, observe the speed limits and obey the road signs at all times."
Work costing £3m was carried out last year on a separate section of the road damaged by the floods on 2007.