Bristol homeless centre opened by 'secret millionaire'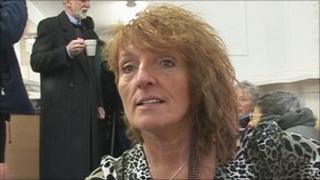 A millionaire who posed as a volunteer at a homeless charity for a TV series has officially opened its new drop-in centre in Bristol.
Dawn Gibbins donated £125,000 to the Crisis Centre Ministries to buy the former Queen Vic pub on Stapleton Road.
Carpenter House will open to homeless customers on Monday, offering counselling and support.
The charity running it, Wild Goose, said it would now be able to help seven times as many people as it did before.
'Something special'
Spokesman Alan Goddard said: "By staying open longer we can get to know the people better, build a relationship with them, look at their fears and hopes and hopefully get them back on track."
Flooring tycoon Ms Gibbins helped out at the Wild Goose's former coffee shop in St Paul's for the Channel 4 programme Secret Millionaire.
She spent time with sex workers, homeless people and drug addicts before revealing her millionaire status and offering the donation.
Speaking at the official opening of the new centre, she said: "I think this place is going to be a transition for people's lives and help them move on.
"I think this is just the start of something very special."