Gloucestershire Police alert over liquid nitrogen theft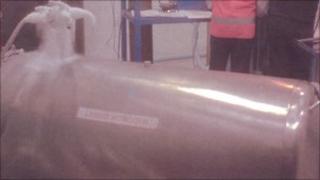 Thieves who stole two liquid nitrogen tanks are being warned they could be putting themselves in danger if they tamper with them.
Three people broke into a factory on the Olympus Centre industrial estate in Quedgeley, Gloucester, on Thursday.
Eight forklift truck batteries were stolen along with the two stainless steel tanks, which are worth about £5,000 each.
Police said the tanks stored liquid nitrogen used in the testing of valves.
Pc Quay Voong, of Quedgeley Police, said: "Whilst the tanks are vented after use, there is a chance of residual nitrogen remaining.
"I am told that the tanks have been vented but if they are tampered with or forced open in any way they may explode or release nitrogen which may cause people to collapse."
The tanks were mounted on a stainless steel cradle with four wheels. They have a BOC sticker on them and a hazard warning.