Historic Gloucestershire shipwrecks denied protection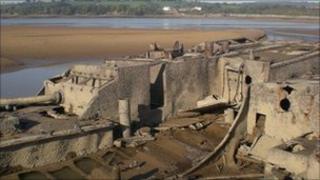 Two shipwrecked barges involved in a river disaster in Gloucestershire 50 years ago have been refused protection by English Heritage.
Five crew members died when the two vessels struck the Severn Rail Bridge, near Sharpness, in dense fog in 1960.
A request to designate the barges under the Protection of Wrecks Act was turned down because they were considered to be of local rather than national interest.
Maritime heritage enthusiasts said they were very disappointed by the ruling.
Plundered artefacts
The Arkendale H was carrying heating oil and the Wastdale H was carrying a cargo of petrol when they collided with each other on 25 October 1960.
The railway bridge fell on top of them and a fire engulfed both vessels.
English Heritage's report said that what was left after the damage and the plundering of artefacts did not contribute significantly to the understanding of the past.
It said: "As Arkendale H and Wastdale H largely worked the Severn Estuary, transporting oil and petroleum, they do not illustrate significant interest with regard to the nation's social, political, economic, cultural, military and maritime history.
"However, their regional importance, particularly the wreck event itself and the subsequent loss of life of five local crewmen, is undoubted."
Paul Barnett, chairman of the Friends of Purton maritime heritage group, said: "To be honest, I'm absolutely devastated.
"This was an important event here in Gloucestershire and, of course, it's not being remembered as such.
"As a former maritime nation, we should hang our heads in shame.
"I have real concerns about Purton, I have real concerns about the River Severn, I have real concerns about the United Kingdom's maritime heritage."