Gloucestershire students offer to foot MP's flight bill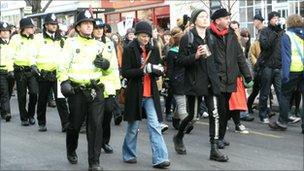 Students offered to pay for an MP's flight home from a climate change conference so he could take part in the government's tuition fees vote.
Martin Horwood, Liberal Democrat MP for Cheltenham, is away at the conference in Cancun in Mexico.
The University of Gloucestershire students' union said it was prepared to pay £900 to bring him back to vote.
Mr Horwood said that cost was not the issue and that the talks in Cancun were "of incalculable importance".
About 50 students took part in a march in Cheltenham on Wednesday against the government's proposals to raise tuition fees to £9,000 a year.
In an open letter to a student, regarding his decision not to return from the conference, Mr Horwood said: "I had indeed taken the decision to vote against the rise.
"The risk I was not prepared to take, however, was with the future of our planet.
"A four degree temperature rise is on the cards unless the world moves faster to take action and that would mean desertification, loss of food supply, more unpredictable flooding, mudslides and hurricanes and the death and displacement of millions of people."
He said he did "not decide to attend the conference knowing the tuition fees vote was taking place this Thursday" and had been nominated to go to Cancun in September.
Related Internet Links
The BBC is not responsible for the content of external sites.