Gloucestershire University reports £5.5m surplus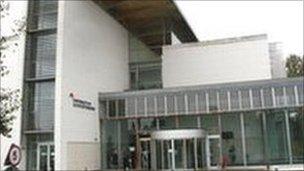 The University of Gloucestershire's annual accounts show it has turned a loss of more than £1m last year into a £5.5m surplus.
The university said it had prepared for changes in the further education market by cutting costs and increasing income.
An increase in overseas students and a buoyant undergraduate recruitment had also helped boost income.
It said it was confident of its future following changes in faculty structures and downsizing of its estates.
A university spokesman said the financial statement for 2009/10 shows there had been some constraints on spending in its library services, in student services and across every part of university life.
"Universities are changing - we are businesses which are part- funded by the public purse but also earn our own income.
"We are going to have to do a lot more of that in the future to offset the costs of higher education.
"The surplus was achieved by reducing cost - which was painful - with some job losses.
"We also trimmed some of our operations and have raised an additional income through commercial activity and additional fees of over £4.5m," he added.
The institution, which has seen 80 staff leave in the last year, is reducing its sites from four to three.
Related Internet Links
The BBC is not responsible for the content of external sites.