Gas pressure reduction plant at Tirley given go-ahead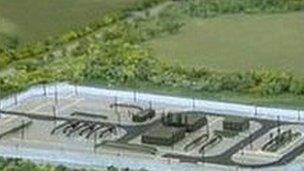 Plans for a gas pressure reduction installation in Gloucestershire have been given the go-ahead.
National Grid said the plant was vital to complete a 200-mile pipeline scheme to carry gas from its terminal at Milford Haven in Pembrokeshire.
The equipment will reduce the pressure of the incoming main, allowing it to be connected to the gas network at Tirley.
There had been fierce opposition to the project from some locals who feared the open countryside would be ruined.
'Intense public antipathy'
The Campaign Against Pressure Reduction Installation (Capri) raised £35,000 to hire a barrister to fight its cause.
Chairman Peter McMurtrie said: "This is the wrong site for a significant industrial installation.
"Distant officials in Whitehall have decided to completely reject the views of the local community and grant permission for an installation that is very evidently the local community doesn't want.
"A thousand letters of objection, all 12 parish councils objecting, three members of parliament there is very obvious evidence of intense public antipathy towards this proposal.
"But the views of local people have been rejected and National Grid have been granted planning permission."
National Grid said it would be working with Tewkesbury Borough Council to ensure the various planning conditions are discharged before the work starts.
"We anticipate that construction, including decommissioning the existing Tirley above ground installation and returning the area to a green field site, will take about 18 months."
Speaking earlier in the year the company said there was a "compelling need" for the plant, which would be part of a ring handling 20% of the nation's gas.
The facility would control and regulate the flow of gas.
Related Internet Links
The BBC is not responsible for the content of external sites.