Cheltenham receives £1.96m in supermarket deal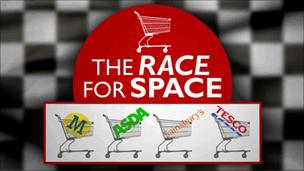 Cheltenham received £1.96m towards improving sustainable transport by allowing a new supermarket to open.
The details emerged in BBC research into the number of new stores belonging to the "big four" chains opening in the UK in the past two years.
The developers agreed to give the money - plus £25,000 towards public art - as part of the planning application.
But Cheltenham Connect, which supports small firms in the town, said the money would not help local businesses.
The UK-wide research found at least 577 new store applications were approved in the two years to 1 November.
Of these, seven were in Gloucestershire and 44 in the West as a whole.
Not every local authority that took part in the research responded to whether there had been any "planning gain" - funding from a supermarket or developer which had received planning permission.
But Gloucestershire County Council revealed it had received almost £2m from developers Cheltenham Office Park and Robert Hitchins.
John Seddon, the council's development co-ordination manager, said: "This money will be used to pay for a traffic calming scheme near the proposed new store to help direct traffic safely and away from the residential areas.
"It will also pay for walking, cycling and bus improvements for the area."
The council's public art panel is yet to decide who makes the art and where it will be installed.
But a spokeswoman for Cheltenham Connect, which had opposed the development, said the new supermarket would take money away from small businesses.
She said: "They are really struggling. Every new supermarket further endangers those businesses.
"I think we are fundamentally in danger of becoming a clone town."
A spokesman for Asda said: "It is important to clarify that Asda did not pay any money - the developer did.
"My understanding is that the developer contribution was mainly for highways and infrastructure associated with the development - not just the Asda store, but also for the office development.
"The figure was calculated and suggested by the county council, as well as the highways authority."
Related Internet Links
The BBC is not responsible for the content of external sites.