Gloucestershire university clubs disbanded over conduct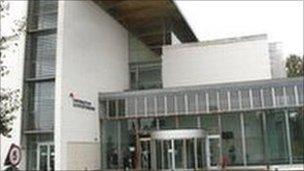 The University of Gloucestershire has disbanded all of its men's football and rugby teams following reports of anti-social behaviour.
Several of the incidents are said to have involved excessive drinking.
University bosses said they have had to give warnings out in the past, but this is the first time they have taken such a drastic step.
Communications director Paul Drake said the behaviour had gone" beyond acceptable boundaries".
"We've had a series of incidents which has led us to believe that a culture of excessive drinking and anti-social behaviour has taken hold in those particular clubs in the university," he said.
"We now feel it's got to the stage where we've had to taken interventionist action to safeguard our students into the future."
He said there had been several incidents in the last 12 to 18 months which had given cause for concern.
"We've looked at all those incidents in turn, but we now feel that they add up to a more serious problem that we've had to manage.
"We have had complaints from the public, we've had complaints from some students, even some that are members of the clubs who do not like some of the activities that take place."
He said efforts were being made to develop an action plan to ensure football and rugby would be "flourishing again across the university," in the next academic year.
Related Internet Links
The BBC is not responsible for the content of external sites.