Gloucestershire bus operator criticises gritting effort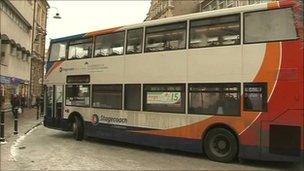 Bus firm Stagecoach has criticised gritting operations in parts of Gloucestershire as "lamentable".
Spokesman Sholto Thomas said it was like "driving a bus around on a skating rink" in some parts of Cheltenham and Gloucester.
Severe weather warnings remain in place as commuters face treacherous driving conditions, with more snow forecast.
Gloucestershire Highways said a "huge" amount of gritting work had been done over the weekend.
A number of roads have been closed and several schools and colleges that were due to open on Monday will remain shut.
In Cheltenham, Stagecoach has said it is only running a limited service on the main roads.
Mr Thomas said it was hard to be specific about what services would definitely run.
He said: "It's very patchy. It all depends in the gritting, which has been quite good in the Forest, but I feel it's been lamentable in Cheltenham and Gloucester.
"As a result, some of the buses are creeping around, but, quite frankly, it's like driving a bus around on a skating rink and I'm getting seriously worried about the safety of our operations now."
Jason Humm, from Gloucestershire Highways, said gritting teams had carried out a "huge amount of treatment" at the weekend.
He said: "We had a massive amount of snow in the Cotswolds and Cheltenham and with temperatures down to -17C in some places, it doesn't matter how much salt you put down, the effectiveness wears off."
All Monday's refuse collections in Gloucester, Cheltenham, the Cotswolds and Tewkesbury have been suspended. Those in the Forest of Dean are running as normal.
First Great Western has reported some delays on the line to Cardiff.
Gloucestershire's hospitals said they had seen a dramatic rise in the number of people breaking their wrists, slipping on the ice.
Some 570 homes in the Whiteshill area of Stroud are without power following an underground cable fault.
A planned visit to Gloucester on Tuesday by the Duchess of Cornwall has been called off.
The Duchess was scheduled to meet staff and residents at the homeless charity Emmaus, of which she is patron.
She was also due to host a lunchtime Christmas reception at Highgrove for staff and children from the charity Latch.
Clarence House said both engagements would be rescheduled in the new year.
Weather forecaster Ian Fergusson said snow was expected to slowly work its way up from the South but when it reached Gloucestershire it would be "lighter and patchier".
He has forecast between 1cm to 5cm of snow.
Mr Fergusson said there was "certainly the potential for trouble later on" as temperatures had fallen as low as -13C (8.6F) in some parts overnight.
Related Internet Links
The BBC is not responsible for the content of external sites.