Cheltenham loan sharks lend to one in five households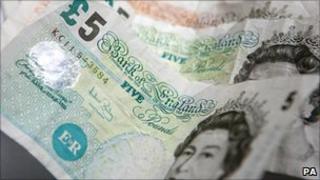 One in five households in parts of Gloucestershire have borrowed money from a loan shark, police estimate.
Officers in the Whaddon and St Pauls areas of Cheltenham believe up to 20% of low income households have used, or are using, unlicensed money lenders.
"It leads to a great deal of insecurity for residents and it can lead to criminality," said Sergeant Mark Stephens from Gloucestershire Police.
Any information about unlicensed money lenders is being welcomed by police.
Sgt Stephens stressed that people were "borrowing relatively small sums of money but paying back large rates of interest".
Alan Evans, head of the South West Illegal Money Lending Team, said the issue was a "massive problem" in the South West.
The team had report a 700% increase in call rates since its establishment three years ago.
He described a loan shark as a money lender that has not got an official lending license from the Office of Fair Trading.