Gloucestershire's £500k for flood plans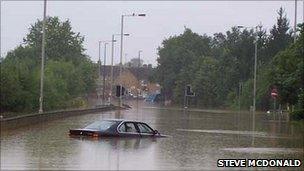 Gloucestershire County Council is being given more than £500,000 over the next two years to help the county be better prepared to respond to flooding.
This could include flood mapping, risk assessments and supporting community flood awareness groups.
Parts of Gloucestershire were badly flooded in summer 2007
The county council can use the cash from the Department for Environment Food and Rural Affairs (Defra) wherever it feels it will be most useful.
"It could be used to pay members of staff, to come up with plans of dealing with surface water flooding or for generally working with the public on how best to deal with flooding," a Defra spokeswoman said.
More than 4,000 homes were affected and some residents were not back into their homes for more than six months.
Related Internet Links
The BBC is not responsible for the content of external sites.