Gloucestershire County Cricket Club alters ground plans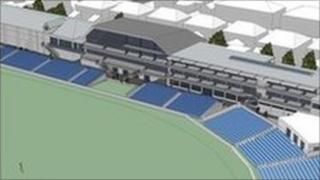 Gloucestershire County Cricket Club has revised its plans to increase capacity at its ground in Bristol.
The club was given planning permission to increase capacity to 20,000, but has decided not to go ahead with the stands next to Kennington Avenue.
The new plans are for 17,500 seats which is still enough to allow it to host international games.
Proposed accommodation for 350 students, part of the initial plans, is being replaced by 150 apartments.
Some people living near the cricket ground were opposed to the original development claiming that it would mean more traffic congestion, parking problems and noise.
The new plans for one and two-bed apartments will include underground parking.
The club, together with Linden Homes, will submit a full planning application to Bristol City Council in the spring.
Their plans will be on show in the Grace Room, at the County Ground, Nevil Road, on 11 and 12 February.
Tom Richardson, the club's chief executive, said "This is a great opportunity to proceed with our much-needed ground development plans."
A spokesman for Linden Homes said: "Our team looks forward to meeting with local residents and groups to find out their views on plans for apartments instead of student accommodation."
The ground currently has 4,000 seats with a maximum capacity of 16,000 when temporary seating is used.