Gloucestershire anti-cuts campaigners 'will fight on'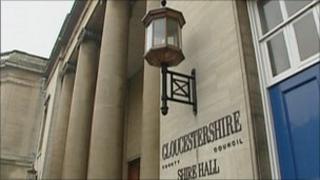 Campaign groups in Gloucestershire say they will continue to fight planned cuts to facilities including libraries and youth centres.
The Conservative-controlled county council's cabinet approved plans to save £114m over four years on Wednesday.
Final approval will be taken at a full council meeting on 16 February.
The proposals would see 1,000 job cuts, and 22 youth centres and 10 libraries at risk of closure.
The plans would also see bus subsidies reduced and the closure of five day care centres. Councillors said the centres are no longer fit for purpose and it is better to give money directly to families.
'Just outraged'
Chris Pockett's brother has severe learning difficulties and uses the Dursley Training Unit.
He said: "We want Gloucestershire County Council to listen to us and the needs of the people.
"People are just outraged at what's going on here.
"I think it's the most vulnerable group in society. Gloucestershire County Council said it will protect the most vulnerable, what rubbish I say."
Demelza Jones, from Friends of Gloucestershire Libraries, said the group would "keep fighting".
She said: "We don't believe that this changes anything in terms of the council possibly placing themselves in breach of the Public Libraries Act and we are pursuing that angle."
Councillor Mark Hawthorne, leader of Gloucestershire County Council, said: "The proposals we have set out reflect the very difficult choices we have to make.
"Our budgets are stretched so it is important we focus our resources where they are needed the most.
"When we talked to the public, of the many messages that came out of the consultation, the clear one repeated time after time after time was the desire to see those services which protect the vulnerable saved and that's what we have tried to do."