Man stabbed in head in Cheltenham reaching for phone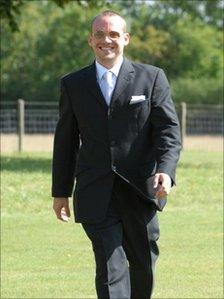 A murder investigation has begun after a man was stabbed in the head in Cheltenham while apparently trying to retrieve his stolen mobile phone.
Keith Soons, 36, from Gloucester, was found with serious head injuries by a passer-by in Wellington Lane, Pitville, at about 0800 GMT on Saturday.
Mr Soons, the father of a young daughter, died later in Cheltenham General Hospital.
A Gloucestershire Police spokesman said his iPhone 4 was missing.
Det Supt Simon Atkinson, from Gloucestershire Police, said: "This is a tragic case where it appears a man has tried to retrieve his stolen property and in doing so received fatal injuries.
"Preliminary post-mortem results show that Mr Soons is likely to have died from a penetrative puncture wound to the side of his head.
"It is too early to say exactly what caused this but it is thought to have been a screwdriver-type implement."
Officers are making house-to-house inquiries, and more than 30 detectives are working on the case.
Det Supt Atkinson asked anyone who had recently been offered an iPhone 4 or knows anyone who might have obtained one illegally to contact the force.
He added: "Those responsible could well have been injured or have blood on their clothing.
"We are appealing to anyone who has knowledge of those involved to get in touch."
Related Internet Links
The BBC is not responsible for the content of external sites.