Gloucester man jailed indefinitely for kidnap of girl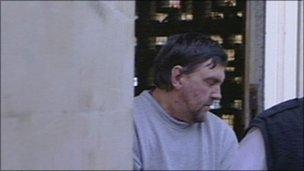 A man who admitted kidnapping and sexually assaulting a teenage girl in Gloucestershire has been jailed indefinitely.
Colin Riddall, 44, from Quedgeley, Gloucester, abducted the teenager from School Lane, Quedgeley, on 16 October.
At Gloucester Crown Court, he was given an indeterminate sentence and told he must serve at least four years and nine months.
Judge Jamie Tabor said it was unlikely that Riddall would ever be released.
Judge Tabor said Riddall was "an untreated sexual offender in denial" and a "danger to the public."
The judge went on to praise Riddall's victim's courage after hearing how she fought back at every stage of the attack and even remembered Riddall's car registration number.
The court heard that Riddall took her to the nearby villages of Elmore and Easington, near Stonehouse.
During the attack, he gagged her by putting a scarf in her mouth. He dumped the teenager back in Quedegley two hours later.
Speaking after the sentencing, Det Insp Kevin McCloskey, from Gloucestershire Police, said: "The actual sentence is an indeterminate sentence which requires him to serve a period of four years and nine months.
"He will not be released until it is deemed that he is non-dangerous."
He then went on to commend the victim for her "fortitude and resilience".
He said: "Her wherewithal to record the registration number of the vehicle Mr Riddall was driving leaves me, the other investigating officers and his honour Judge Tabour quite astounded."
The victim's father, who was not named to protect his daughter's identity, said: "Today's sentence reflects the serious nature of this unbelievable first offence, which has sent shivers running through parents' spines both locally and nationally.
"We are pleased to see he has been considered as a long-term threat and removed from our streets.
"We feel genuinely sorry for any family member of Mr Riddall who now have to live with the shame of what he has done."
He went on to praise his daughter for her "strength and bravery" but said the experience had left her in "serious need of help".
After last month's court hearing, police said they were investigating Riddall's background as he had no previous convictions.
The Independent Police Complaints Commission is investigating Gloucestershire's Police's response to the incident.
Related Internet Links
The BBC is not responsible for the content of external sites.