Cancelled Cheltenham wedding fair investigated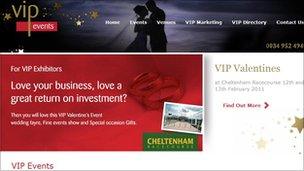 Police are investigating after a wedding fair organised for this weekend was cancelled at the last minute.
Hundreds of exhibitors had paid up to £800 each for a stand at the Valentines Show at Cheltenham Racecourse. Tickets to attend were sold in advance for £10.
A racecourse spokesman said the third party organiser, Spain-based VIP Events, had "failed to comply with our terms and conditions" in recent days.
The company has not responded to attempts by the BBC to contact it.
A police spokeswoman said: "Gloucestershire Police have received a call from a member of the public with concerns about the cancellation of a wedding event planned at Cheltenham Racecourse for this weekend.
"Officers are working with the racecourse to investigate whether any criminal offences have been committed."
'Apologise for inconvenience'
The racecourse spokesman said: "We are extremely disappointed to have to take this step at such short notice.
"However, our client, a third party company which is organising the event, has failed to comply with our terms and conditions of business despite repeated requests in recent days.
"That being the case, we are left with no option but to cancel the entire booking for this weekend.
"Cheltenham Racecourse would like to apologise for the inconvenience this will cause, particularly to exhibitors, sponsors and guests who have been dealing with this third party company in good faith.
"We would also stress that this has no impact whatsoever on any other events taking place at Cheltenham Racecourse.
"We are passing the matter to our solicitors and can make no further comment at this time."
Pippa Springer, of Gloucestershire-based wedding shop Veils of Berkeley, said her store had been supposed to have been leading the catwalk show and sharing a stand with Adam Drake Photography at the fair.
She estimated that they had lost more than £1,000 because of the cost of hiring a stand and other work preparing for the event.
Mrs Springer added that she had been led to believe celebrities including chef Jean-Christophe Novelli would be attending the event.
But a note on Mr Novelli's website says: "It has been bought to our attention that an entity trading as VIP Events has, in advertising an event on Saturday, 12th February 2011 at Cheltenham Racecourse claimed that Jean-Christophe Novelli will be attending.
"However, neither Mr Novelli nor his company Novelli Associates Ltd have received a booking for this event and are therefore not intending to nor committed to attend."
Mrs Springer said: "We have also put weeks of time and effort into this event as would all of the exhibitors, sponsors and of course Cheltenham Racecourse.
"We are particularly upset because we are a new business and this was our first major campaign which we felt was a fantastic opportunity as it was over the romantic Valentine weekend.
"We had employed over 20 people to contribute in the catwalk show. Also Adam had been working with us on this and has incurred costs and loss of earnings to attend Cheltenham Racecourse."
A Valentine's ball, due to take place on Saturday evening as part of the same event and costing £30 a ticket, was also cancelled.
Related Internet Links
The BBC is not responsible for the content of external sites.